Certified Service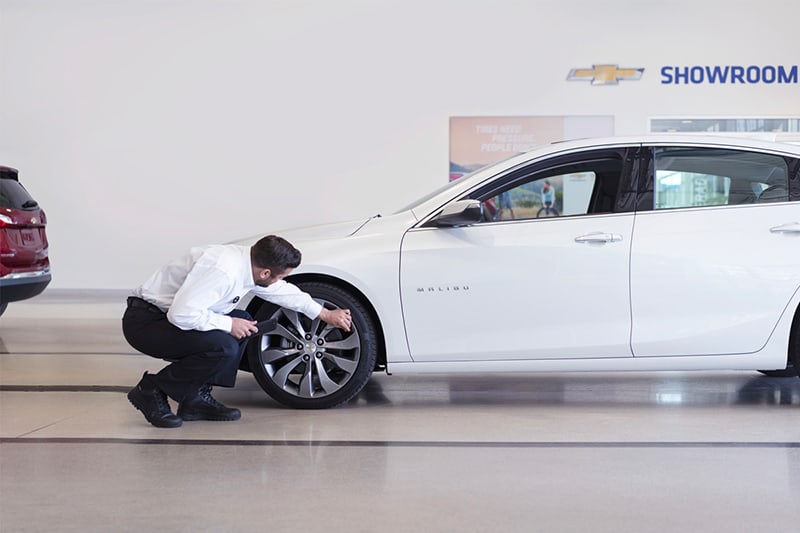 Special Service Offers & Pricing
Our auto repair shop is capable of performing almost any car repair and maintenance job you can think of. We've got the expertise and training to ensure that your vehicle continues to run smoothly on the Montgomery roads.
Best of all, visit our car repair shop for car maintenance in Prattville and you'll find that we're fairly priced with regular rotating service offers to help you enjoy excellent auto service without breaking the bank. Find out more about how our team at Larry Puckett Chevrolet can help you save on car maintenance and auto service at our auto repair shop!
Maintenance
Need New Tires?
We offer various different types of car maintenance in Prattville. However, one popular auto service we provide at our car repair shop is helping you find new tires. Tires are important for your safety as you drive around Wetumpka so it's vital that your tires are in excellent condition.
Not only can we help you find new tires at our auto repair shop, but we can also help you maintain your tires after you've put on a new set. Get tire maintenance with our team for maximized safety.
Find Tires
Need An Oil Change Near Prattville, AL?
One of the most important car repair and maintenance items you should stay on top of is oil changes. Many new Chevrolet vehicles offer an Oil Life Monitoring system that'll let you know when it's time for an oil change.
However, if you're unsure about when your next oil change should be, you can always stop by our car repair shop for assistance. Don't overlook this important service, get an oil change in Prattville, AL at Larry Puckett Chevrolet.
Learn More
Multi-Point Vehicle Inspection
While car repair and maintenance is what we specialize in at our service center, you can also come to us for multi-point vehicle inspections. Many of our vehicles have been inspected to ensure that they'll provide you with lasting performance.
However, if you're interested in a vehicle elsewhere, we can help you perform a multi-point vehicle inspection so that you can protect your investment and drive around Millbrook with added peace of mind.
The Multi-Point Vehicle Inspection form uses a simple color-coded key to assess maintenance terms:
Red indicates items that need immediate attention.
Yellow indicates items that should be addressed in the near future.
Green indicates no items to address.
Hearing Brake Noise?
An often overlooked car maintenance item is brakes. Your brakes allow you to enjoy maximized safety as you tackle your Prattville commute. If you're hearing any unusual noises coming from your brakes or you're looking to ensure that your braking system is in working order, our professional technicians can help ensure that your brakes have the stopping power you need.
Learn More
Battery Trouble?
Sometimes, the weather in the area can get extreme and when that happens, your battery will begin to wear down. Your vehicle's battery is important to ensure that your vehicle starts up each and every time and it can even power vehicle accessories when your vehicle isn't running.
With such an important role, we'd recommend you have our experts at Larry Puckett Chevrolet take a look at your vehicle's battery as part of routine car maintenance on your next visit.
Learn More
Choose Larry Puckett Chevrolet For Genuine Chevrolet Auto Parts
Larry Puckett Chevrolet is your source for genuine Chevrolet auto parts. Our parts center is fully stocked with everything from oil filters and spark plugs to brake pads and tires. We make it easy for Montgomery drivers to get replacement parts and accessories for their Chevy vehicles.

You can even use our online ordering form to order the parts you need. And, if you'd like us to install it for you, let us know and our service center technicians will professionally install your part or accessory, ensuring the best possible fit and performance.
Contact the Larry Puckett Chevrolet Service Team!
We're located at 2101 2101, Cobbs Ford Rd, Prattville, AL 36066 and we'd be more than happy to help you with all of your service needs. Get in touch with the experts at Larry Puckett Chevrolet today to keep your vehicle running smoothly. If you'd prefer to stop by, you're more than welcome to visit our Prattville service center. We hope to see you soon!